The 18 Best Vegan Desserts I Found At Trader Joe's
|
Trader Joe's is always changing the game with innovative new vegan twists on traditional meals. Plant-based ice cream, mochi, cookies, and more continue to satisfy our sweet tooth, and at budget-friendly prices, our wallets are happy. Whether you dive in or nibble on a chewy, moist Snickerdoodle cookie, one thing is for sure.
Trader Joe's launches new vegan products
Trader Joe's has been the king of snacks for years thanks to its exclusive private label offerings. And many of those snacks have long been vegan.
Trader Joe's has a reputation for being relatively quick in and out of its products, but the grocer's favorite has long been known for its dairy-free cheesecake, coconut milk-based vegan lunch dips, ultra-dairy and more. We deal in plant-based products. High protein vegan burger patties, 4 packs of sweet fluffy vegan vanilla cupcakes. These products may no longer be on grocery store shelves, but they're being replaced by many new and exciting products.
Trader Joe's Vegan Sweets
We can't wait to see what's next for this cult-favorite grocery chain, but for now, our attention is on all of the delicious desserts and sweet treats currently on offer that are dairy- and egg-free. Here are our 18 favorites:
Trader Joe's
1 Dark Chocolate Sunflower Seed Butter Cup
Who needs a lease? We're here for these peanut-free dark chocolate treats. The mini version offers the perfect chocolate craving fix.
Trader Joe's
2 Organic Almond Beverage Chocolate Bar
The name here is a little confusing. What Trader Joe's is trying to say is "vegan milk chocolate." That is correct. Run, don't walk, go to the nearest place now.
Trader Joe's
3 Keep your dairy!mini cone
These coconut milk-based chocolate ice cream-filled cones, drizzled with chocolate, make for the ultimate single-serving ice cream treat on a warm-weather day. Stock up before summer.
@traderjoesvegan/Instagram
Four cream sandwich cookie
Whether it's lemon or chocolate, TJ's has you covered. We highly recommend trying each flavor of these vegan soft baked sandwich cookies. The Lemon Creme has a nice crunch and the Chocolate Brownie & Vanilla Creme is deliciously decadent.
@traderjoesvegan/Instagram
Five vegan marshmallow
We load these fluffy treats into steaming mugs of soy hot cocoa in the winter and roast them over the campfire in the summer, but no matter the season, we always have a bag of these gelatin-free marshmallows on hand. I'll leave it in
@vegan.traderjoes/Instagram
6 Ookie Doquie Oats Non-Daily Ice Cream
Each scoop of this oat milk ice cream is filled with honeycomb toffee and sumptuous caramel swirls.
@hello.traderjoes/Instagram
7 Strawberry Non-Dairy Oat Frozen Dessert
Don't miss this pint thinking it's plain strawberry. The ultra-smooth ice cream is packed with crunchy almonds and sweet candied strawberries for extra flavor and texture. This creamy treat is sure to make everyone a Strawberry his ice cream lover.
big box vegan
8 Thai banana fritters
These rice, coconut, and sesame-crusted fritters are made with sliced ​​Thai namwa bananas and are easily crisped to golden perfection in an air fryer. for dessert.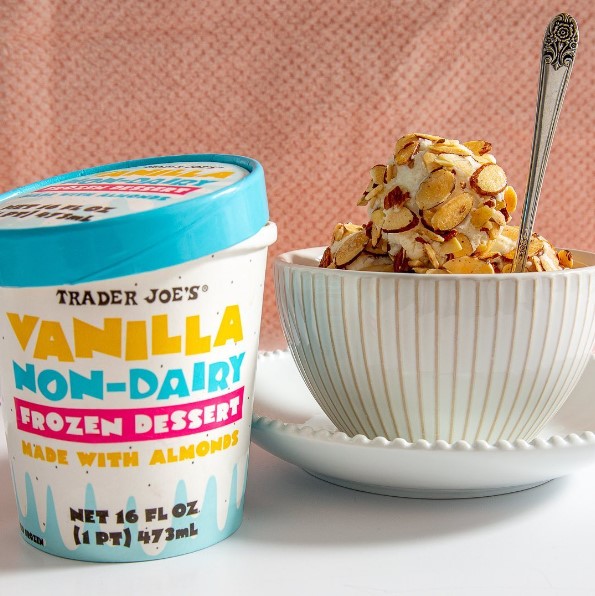 Trader Joe's
9 vanilla non-dairy frozen dessert
This almond milk-based ice cream tastes like cake dough.
veggie news
Ten jumbo cinnamon roll
Honestly, cinnamon rolls are more dessert than breakfast. But there's absolutely nothing stopping you from devouring these quick-to-bake, accidental vegan treats in the morning.
Trader Joe's
11 vegan oatmeal chocolate chip cookies
These moist, soft, crunchy cookies have saved us on many craving strikes. Each bite is sprinkled with chunks of dairy-free chocolate that melt in your mouth.
Trader Joe's
12 Joe Joe's
Who can forget these classic Trader Joe's cream-filled cookies? Buyer Beware: Gluten Free Joe Joe's is not vegan (contains dairy). Various seasonal flavors such as matcha, mango, and candy cane offer vegans plenty of delicious options.
@traderjoesveganitems/Instagram
13 chocolate fudge oat bar
Our youth fudge bars get a big upgrade with these dairy-free oat-based versions from your favorite grocery store. Scan your freezer section and box when the craving strikes. Grab a (or two)
@traderjoesveganitems/Instagram
14 cold brew coffee and boba ice cream
With crunchy tapioca pearls, this inventive pint of ice cream quickly captivated us and has become a Trader Joe's favourite. The coconut milk base complements the rich flavors of the coffee well, making for a well-balanced pint.
Trader Joe's
15 Vegan cookies & cream vanilla bean bonbons
Trader Joe's ice cream novelties gourmet! Each bite of these coconut-based ice creams is covered in a rich dark chocolate his coating that pops with every bite.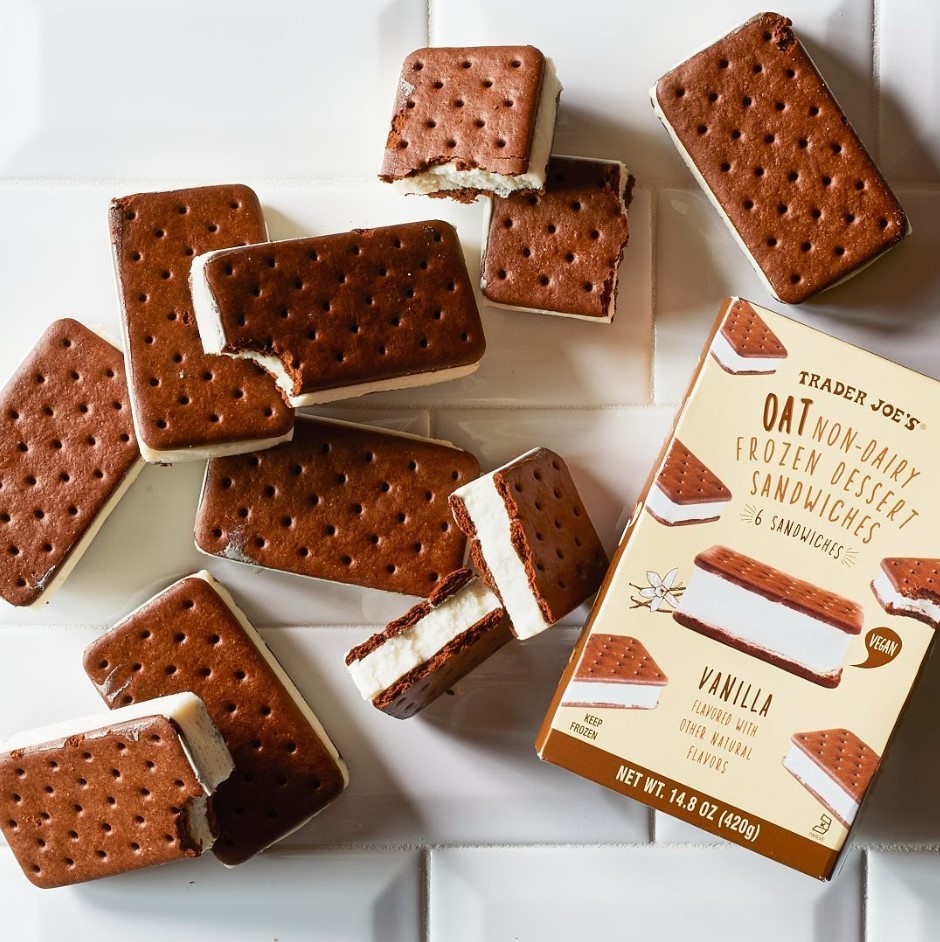 Trader Joe's
16 oat milk ice cream sandwich
This rendition from Trader Joe's takes the dairy out of the classic wafer-like ice cream sandwich. A kid-friendly treat with a simple vanilla oat ice cream sandwiched between two pieces of his chocolate his wafers.
@eatingstamfordct/Instagram
17 oat chocolate bar
Do you trade dairy for oat milk? These vegan milk chocolate bars are perfect for s'mores, chopped into cookie dough, melted over baked goods, or eaten straight as a bar.
join
18 party cookie
We couldn't be happier with these beloved gluten-free and always vegan cookies hitting the shelves at TJ's! We're eating the mini chocolate chip variety.
Read on to find out more about Trader Joe's.