You probably know what 5 points looks like.
You may have waited for a table to open on a Sunday, strolling Stone Avenue with hipsters in western chic and neighborhood cuties for brunch. You'll recognize their dining room, flanked by natural wines and a pantry that looks like the coziest and hippest farm stand in town.
You might even have enjoyed a Negroni at their bar for their new dinner service, complete with homemade ricotta and focaccia to dip with friends. But if you pass the cash register and the adjacent, ever-tempting cake stand, you'll slip from the gas station into their kitchen.
When you went there, the buzz of waiters, cooks and friends catching up over wine probably distracted you from the quiet engine of the operation: in an undisclosed location, perhaps in plain sight, sits a cookbook that contains the wealth of recipes collected over the 10 years the restaurant, 756 S. Stone Ave., has been open.
At the end of each page of the cookbook, initials indicate who last modified the recipe. Here remain the voices of chefs who have passed through this cuisine, their indelible mark: BP — Bonni Pachecho (today Pacheco-Castillo), who developed their kouign-amann and is now a teacher. SS — Savanah Sandate, who is now a pastry chef at the local restaurant Bata.
"Even in recipe writing, you can see their voice when they write it down," said Chandler Donald, current bakery manager of 5 Points. "I was reading a Savanah recipe yesterday. It's a very Savanah recipe. If you're trying to make it this way, do this, if you're eating this right away, add the gelatin at this point.
"I haven't spoken to [Bonni] in months and months but I hear it while I cook: Chandler, could we be wrong? he says, referring to the mise en place, the prep-intensive style of cooking practiced in many professional kitchens, which Bonni taught him.
Chandler is now in charge of stewardship of these recipes. The legacy of these former chefs is alive in the voices he hears as he works, in the consistency of the breads, pastries, cookies and cakes that come out of the 5 Points ovens.
I came to see him to talk to him about cake.
My mother has the kind of sensitive stomach that forces her to eliminate many seemingly random ingredients from her diet: peppermint, for example, causes inflammation. Just like tomato seeds and, for her, chocolate. She can't often eat dessert without hurting herself. But she could eat the gluten-free hazelnut cake that Chandler built for a 5 Points dinner service, topped with stabilized whipped cream frosting and caramelized hazelnuts. It was the first cake she had eaten in recent memory, and I decided I would find the person who made it.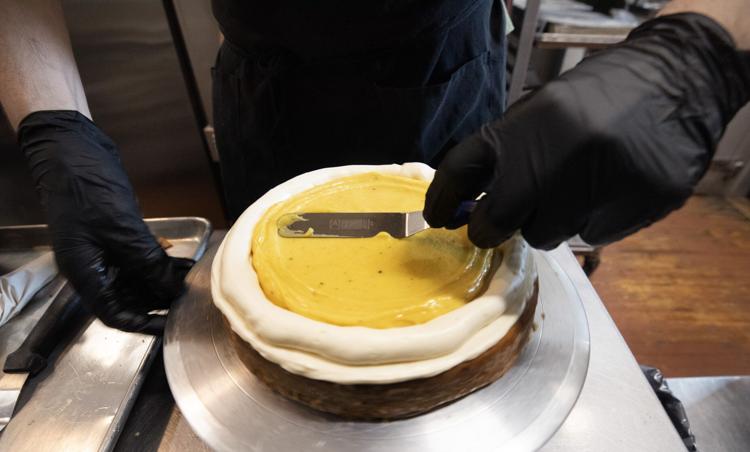 5 Points cakes are special, as beautifully flavored as they are decorated, and rarely repeated. I don't know what kind of cake will be 5 Points on any given day, but I know I'll be delighted.
For a brilliant price of $9, I can buy happiness in the form of a Belgian Chocolate Cake with Orange Whipped Cream and Salted Caramel Swiss Buttercream, or a Lemon and Oil Cake. Arbequina olive with local peach cream and Italian meringue buttercream with Sonoran honey. Unconventional flavor combinations are often allowed by "The Flavor Bible," which is like a thesaurus of tastes. 5 Points owner Jasper Ludwig trusts Maillard's reaction almost as much.
Don't be afraid, trust the process: if you see something strong like lavender in the ingredient list, "it's mostly grapefruit custard with someone saying lavender in the other room . [Grapefruit] is the most floral of the citrus fruits, so I like to pair it with more floral flavors like jasmine," Chandler said.
The only way to guarantee your favorite cake will be there is to order a bespoke one, a service used for events as elaborate as weddings or as simple as a woman's fortnightly habit of baking carrot cake.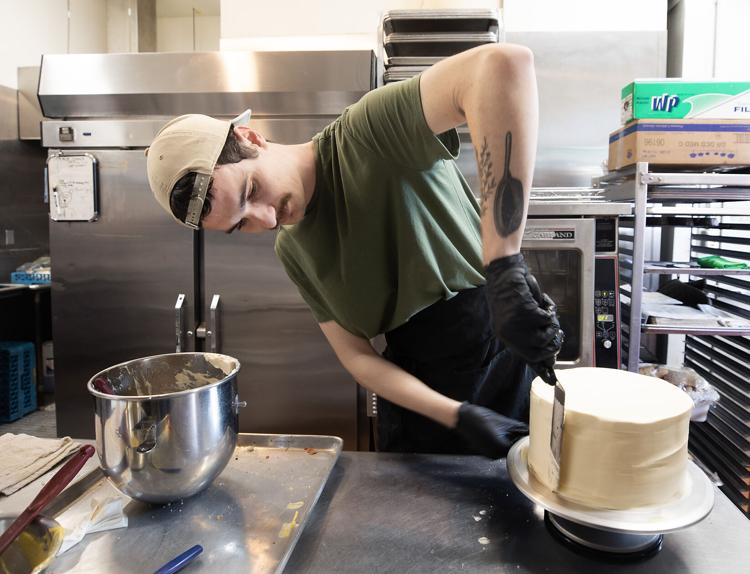 Chandler's days begin with a bake, to get the required number of scones, cookies and kouign-amann. He will also prepare some cakes which will then be frozen to be built later, with different frostings and decorations. Building cakes is one of the most creative aspects of the job, but it's fueled by necessity: what does it have to work with and what hasn't been done before?
Cake flavors are dictated seasonally, depending on which produce is at its peak in the region. Last winter, his first full-time winter on staff, Chandler was overwhelmed with citrus fruits.
"My mind is in citrus season," he said. "It's the only seasonal fruit we can get locally this [time of] year. Last year, I had a hard time not doing the same stuff every time. Now I've had a year to think about it, how I'm going to use all these different citrus fruits. Chandler has since had a cross section of orange tattooed on his arm.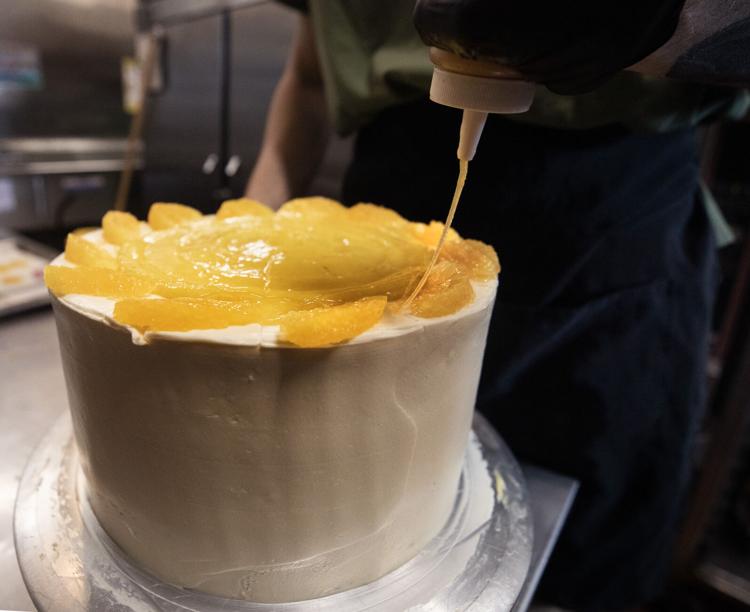 An avid home baker, Chandler began his pastry career under Kayla Draper, Bata's pastry chef, when she worked at Flora's Market Run.
Chandler grew up in Apache Junction, the easternmost suburb of Phoenix. "There are no bakeries there. There are a few small businesses that are restaurants and such, but it's mostly Little Caesars, Jack in the Box, Walmart. The reason I loved Tucson so much when I moved here is that there are so many small businesses here. Food is really important to people.
Her father is a pastor, and some of her earliest memories of baking are of church ladies – her mother, aunts and other congregants – bringing baked goods to Sunday service. Chandler's mother is a talented cook and he started cooking with her, first making pizza when she was cooking something he was too hard to eat.
"Because my father was the pastor, we stayed at church until noon or one o'clock. There would be all these leftovers because all the ladies in the church would bring all these baked goods and there were always too many," he said.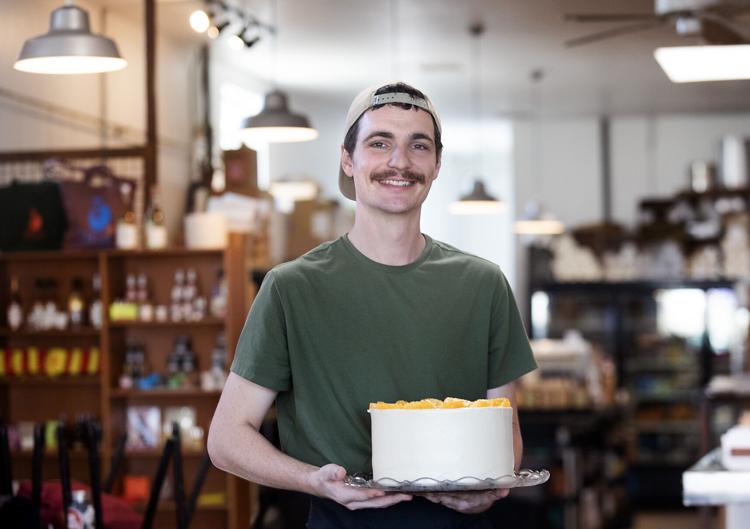 Chandler has walked away from the church, but he still carries himself with the grace of someone who grew up steeped in the concept. Alone, back in college, or now at work or at home with his wife (and muse), Chandler spends time with people who grew up differently from him. "In the restaurant industry, there are a lot of… people who aren't ashamed to have fun," he said. "I can be proud and happy and not be preoccupied with sin."
"Being a baker is a hedonic profession. I'm all about the fun, I want you to have the most enjoyable experience, with no thought that it needs to be kept or in small amounts, or that there's some shame associated with it," said Chandler. "For a lot of people maybe there's shame in eating stuff like that, but I'm trying to get away from it."
"Baking is a very simple joy, but it's an uncorrupted joy," Chandler said. "There is nothing wrong with enjoying a cake."
5 points
Location: 756 S. Stone Ave.
Hours: 8 a.m. to 2 p.m. daily (to get your hands on their most popular pastries, visit when they open). Dinner service is provided from 5:00 p.m. to 9:00 p.m. Thursday through Saturday.
For more information (or to order a custom cake), check out their website.