13 Squash Recipes To Try (Plus, How To Tell If A Squash Is Ripe)
|
"Winter squash" is a bit of a misnomer. In reality, these vegetables really come into season in late summer and early fall. As the temps start to drop, I find myself searching for the best winter squash recipes and ways to use all the fancy picks that pile up in grocery stores, markets, and farm stalls. Luckily for all of us, their buttery flavors are the perfect accompaniment to soups, salads, and pasta, and they even stand out as the hero in many of the meatless main dishes I'll be eating all season.
You may already be familiar with some of the vegetables that fall into this family. Butternut and spaghetti squash have become fan favorites in recent years, but I also recommend trying a recipe with delicata or red kuri squash this fall. Keep scrolling for tips on identifying the seven most popular varieties of winter squash plus some must-try recipes below.
Featured image by Hannah Haston.
Subscribe
Our top 10 recipes
Sign up to receive a FREE E-BOOK of my top 10 most popular recipes of all time!
Thanks for signing up!
Oops!
It looks like you've already signed up or your email address is invalid.
Oops!
Looks like you've previously unsubscribed, click here to resubscribe.
How do you know if a squash is ripe?
To see if a pumpkin is ripe, look at the outside. The skin should be a matte color (if it's shiny, it's not yet ripe) and it should have a hard exterior.
All season long, I tend to pick up kabocha squash, delicata squash, a sugar squash, acorn squash, butternut squash, spaghetti squash, and red currant squash to experiment with my favorite winter squash recipes. Sure, when I'm in fall mode, I can't help but grab some mini gourds and pumpkins too! These are mainly used for decoration, but can also be found in some recipes.
How to identify the seven most popular winter squashes?
kabocha – crouched green pumpkin with faint white lines running up and down the surface
Delicate — yellow cylindrical pumpkin with green and orange stripes along the backs
Sugar Pumpkin – small, almost perfectly spherical pumpkin in bright orange
Jerk – dark green pumpkin with thick ribbing all around
butternut – bell-shaped pumpkin with a light peach-yellow exterior
Spaghetti – round cylindrical pumpkin with a bright yellow exterior
Red Kuric – warm orange pumpkin with a crooked shape
The next time you're at the grocery store or farmer's market, try grabbing a pumpkin you haven't tried yet. For me, the hardest part of trying new foods is finding ways to incorporate them into recipes. Below I have listed 13 delicious recipes with my varieties of winter squash.
13 winter squash recipes to satisfy your cravings all season long
"Creamy" Vegan Pumpkin Soup With Ginger & Coconut Milk
Why we love it: This soup is my favorite way to jump into squash season. It's one of the coziest soups I've ever had while still tasting clean and healthy. Thanks to the coconut milk, it is ultra creamy without any cream at all. I highly recommend doubling this recipe and saving it for lunch or keeping it in the freezer for a rainy day.
Hero Ingredient: Peeled and chopped ginger adds just the right amount of warming spice to this perfect-for-fall soup.
Roasted Pumpkin Stuffed With Goat Cheese, Figs And Pesto
Why we love it: Just the name of this recipe makes my mouth water. Squash squash, goat cheese, and pesto are three of my favorite dishes, and when you throw them together, they're unbeatable. This is an excellent affordable, healthy, vegetarian meal to add to your fall meal.
Hero Ingredient: Pesto adds a bright, fresh flavor to this comforting dish.
Rosemary Roasted Acorn Squash With Brown Butter And Hazelnuts
Why we love it: I was lucky enough to try this recipe when Tieghan Gerard came to visit Camille last year and I've been dreaming about it ever since. I can't say I'd ever tried acorn squash before, and it quickly became one of my favorite winter squashes. The brown butter and hazelnuts, with the hint of spice from the chili flakes, is the flavor combination you never knew you needed.
Hero Ingredient: Just a tablespoon of brown sugar is all the added sweetness this recipe needs.
Roasted Delicata Squash With Feta, Almonds And Herbs
Why we love it: If you're not familiar with it, delicata squash is slightly sweet, caramelizes perfectly, and is the ideal canvas for all fall flavors. This particular recipe serves it with a simple dressing and lots of toppings to make the pumpkin a complete meal. The crunch of the almonds and the creaminess of the feta is just the icing on the already delicious cake.
Hero Ingredient: Cumin gives a rich, firm and warming bite to this quintessential fall side.
Pumpkin Pizza With Arugula & Almond Ricotta
Why we love it: As the seasons come and go, one thing stays the same: my love for pizza. This butternut squash pizza shot to the top of my favorite winter squash recipes because it's seasonal, dairy-free (although you wouldn't know it), and downright delicious. The sweet pumpkin and ricotta combined with the savory bacon will have you going back for the third and fourth slice.
Hero Ingredient: If you haven't yet delved into making your own (vegetable) ricotta, now is the time to try it! To be wayyy easier than it looks and makes the perfect cheesy, slightly sweet base for this fall pizza.
Pita Tostadas with Pumpkin Squash, Black Beans & Avocado
Why we love it: As much as I love squash recipes, sometimes they can all start to taste the same. However, these tostadas are the perfect way to shake things up while still eating with the season. Camille took the genius approach of swapping tortillas for pita bread in this recipe, which is the perfect chewy, golden-brown crust for this Tex-Mex spin on squash.
Hero Ingredient: Adding a few creamy slices of avocado to everything is the answer for… everything.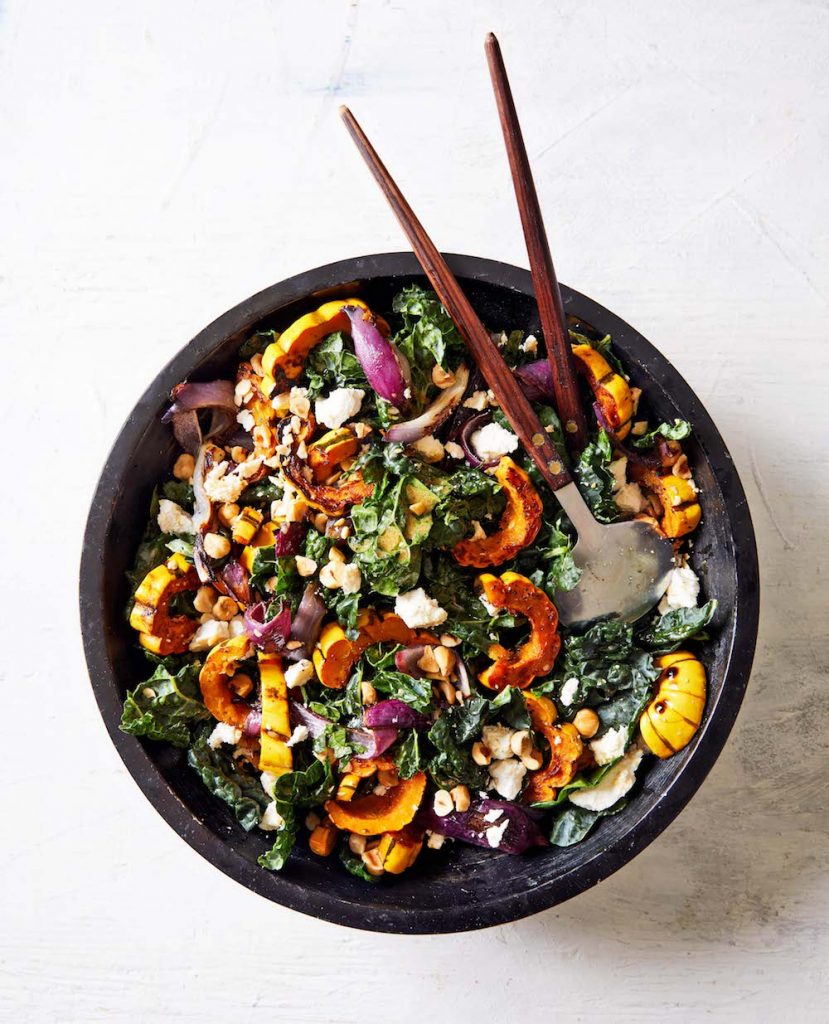 Warm Roasted Delicata Squash and Kale Salad
Why we love it: This colorful and seasonal salad is the perfect addition to all your fall dinners. It's from Sheela Prakash's cookbook Mediterranean every day and is as healthy as it is comforting. I like to make a big batch of this on Sundays to have on hand all week because it's full of veggies that don't get soggy from the dressing.
Hero Ingredient: I love the peppery, sharp bite of Dijon from the vinaigrette.
Wild Grain and Winter Squash Salad
Why we love it: Salads that don't feel like salads are trending on TikTok, and this wild grain and winter squash salad should go viral. With no leafy greens on display, it's a great recipe for when you want something more comforting, yet healthy. Resting on a bed of rice, the delicata and dumpling squash are topped with almonds, feta, and plenty of spices to satisfy any palate.
Hero Ingredient: Wild purple rice isn't just a good source of protein. It's also a wonderfully chewy, nutty, and slightly sweet grain that's perfect for any fall salad or bowl.
Curry Butternut Squash Soup
Why we love it: My roommate and I started a new tradition this fall: Soup Mondays. I know you think Soup Sundays makes more sense, but we happened to have soup two Mondays in a row and it stuck. On tap for this week is this comforting curry pumpkin squash soup. The curry adds even more flavor than the traditional pumpkin soup, which is already my favorite. It's also freezer friendly and one of the best winter squash recipes for meal prep.
Hero Ingredient: The chopped Granny Smith apple adds a complex sweetness that deepens this soup's cozy fall flavors.
Crispy roasted butternut squash and quinoa with currant vinaigrette
Why we love it: This simple, yet delicious fall meal will be your new weeknight hero. The butternut squash is golden brown and crunchy on the outside and creamy and warm on the inside – just the way I like it. The currant vinaigrette perfectly brightens up the dish, complements the autumn flavors and brings everything together. Plus, you'll want to bookmark this genius tip for cooking quinoa.
Hero Ingredient: I love the creamy, firm bite of the chickpeas. It plays perfectly with crunchy pumpkin and nutty quinoa.
Pasta of butternut squash, spinach and goat cheese
Why we love it: I'm a sucker for good fall pasta, and this is one of the easiest and best recipes I've tried. The short ingredient list comes together in one bowl and is perfect for a cozy weeknight or a wine evening with friends. Take it from me: the optional sage leaves certainly shouldn't be optional.
Hero Ingredient: A garnish of toasted pine nuts is the perfect textural play, delivering just the right amount of crunch.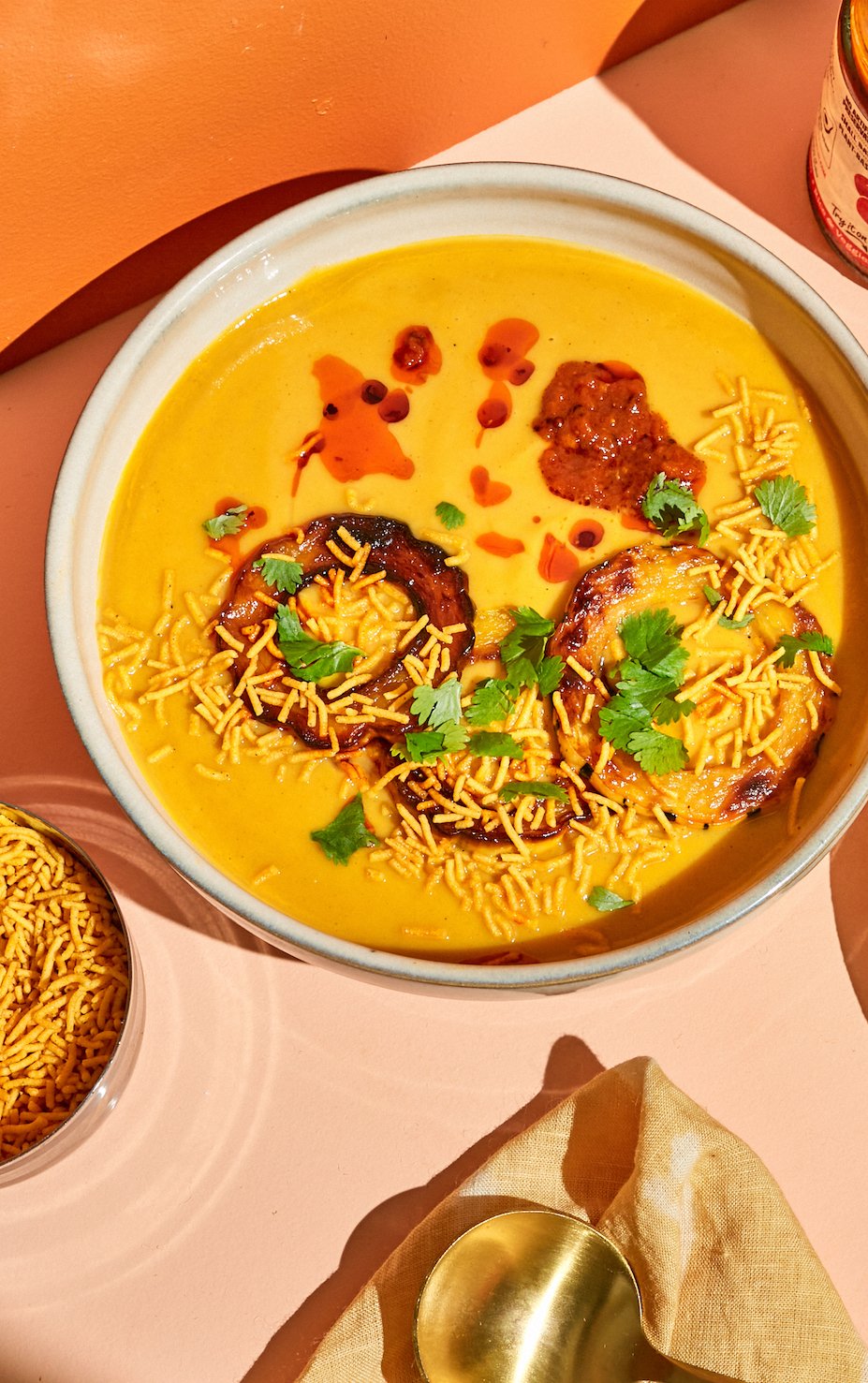 Curried Roasted Winter Squash Soup From Brooklyn Delhi's Chitra Agrawal
Why we love it: This delicious winter soup is Chitra Agrawal's weeknight meal, and I can't blame her. I love that you can make it with any winter squash — butternut, acorn, kabocha, or delicata — so you'll never tire of it. And if you roast the pumpkin ahead of time, this recipe comes together in one bowl.
Hero Ingredient: Leaning on your favorite simmering sauce not only makes this recipe a breeze, but it also ensures that you pack tons of flavor despite a minimal ingredient list.
Slow roasted cod with broccoli, winter squash and mint
Why we love it: I love a recipe that feels ultra-elegant, yet comes together in a matter of minutes and is baked in one pan. This Roasted Cod with Broccoli, Pumpkin, and Mint does just that, giving you a restaurant-quality meal with minimal effort. You can make this recipe with any firm white fish or any winter squash and the formula will be just as delicious every time.
Hero Ingredient: Is it just me, or is cod a super underrated fish? It's certainly a low-fat source of protein, but it also has a light, flaky texture and a bland taste that will stand up to any seasonings you add.
This post was originally published on October 26, 2017 and has since been updated.